Who says you can't have it all?
From data transmission to satellite tracking and reception to demodulation and synchronization, backed up by test equipment to make sure you're mission-ready and getting the most out of your telemetry gear, Quasonix has you covered. Our end-to-end solutions make us the only company in the industry able to meet all your telemetry needs. Contact your local sales support to learn more or to make a purchase.

Need a powerful way to analyze receiver/demodulator mission dynamics? The Quasonix RDMS™ Status Logger is the solution.
Quasonix offers a series of Precision Drive (PD) pedestals utilizing reflectors from 3 feet to 20 feet in diameter, which can be easily integrated with RF and optical payloads for a wide range of telemetry tracking applications.
Quasonix QTrack™ portable low-gain antennas, coupled with industry-leading Quasonix RDMS™ telemetry receivers, are the perfect solution for portable or mast-mounted antenna applications. Watch a short demo!
Quasonix digital multi-mode telemetry transmitters are the benchmark of the industry, providing unparalleled performance and value, in small, robust, power-efficient packages.
Quasonix digital multi-mode dual telemetry transmitters provide the flexibility of two high performance, independent transmitters in one package.
Starting at a mere 1.3 cubic inches, Quasonix nano transmitters support the smallest of airborne platforms.
Quasonix's multi-mode compact RDMS™ telemetry receiver features an extremely-sensitive RF downconverter integrated with the company's market-leading ARTM demodulator and bit synchronization in a flight-ready package.
The highest performing telemetry receiver on the market is available in an elegant, compact 1U rackmount package and a 3U touchscreen package with dual, 7-inch full color touchscreens.
Redefine the "Local" in Local Area Network. With the Quasonix Ethernet Via Telemetry (EVTM) system, your test article can be on your ground station LAN, just like any other computer or Ethernet appliance.
The ideal solution for distributing telemetry data across your network, providing IRIG 218-20 compatible telemetry transport in both a bidirectional 12-channel 1U form factor (TMOIP-12) and a 3-channel integrated solution embedded in a 1U or 3U RDMS™ receiver.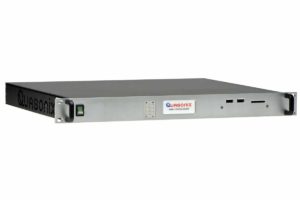 Need a powerful way to analyze receiver/demodulator mission dynamics? The Quasonix RDMS™ Status Logger is the solution.
The Receiver Analyzer automates a wide range of receiver and combiner performance tests.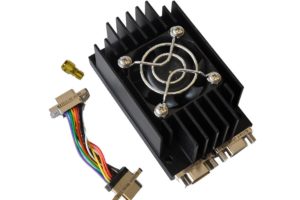 Whether you're connecting, cooling, or controlling your telemetry gear, Quasonix has the accessories you need to do it right.